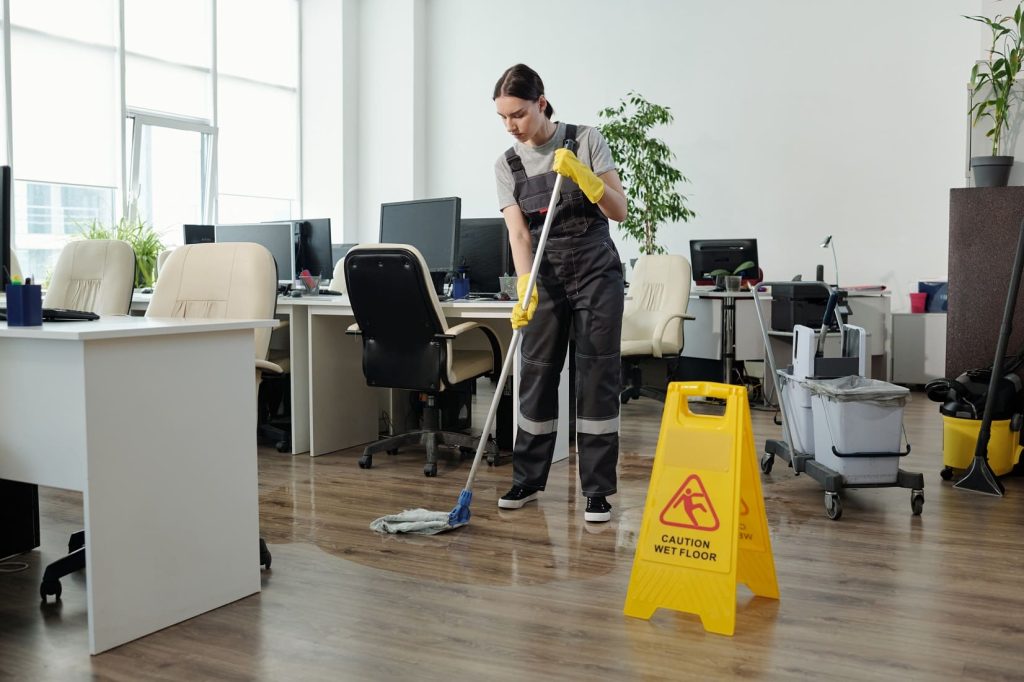 Do you think that the dirtiest place is your office toilet?
Read this article to find out some of the grimiest places in your commercial area and how you can keep them clean. In many of these places, we don't even pay attention, which leads to the accumulation of dust and allergens.
To keep your office spotless, hire the best commercial cleaning services in Dubai to provide you with quality deep cleaning services.
So, without further ado, let's get started!
Dirtiest Place in Your Office
1. Door & Faucet Knobs
Researchers from the University of Colorado show that an individual carries about 3,000 bacteria from at least 100 species. So, imagine a sick officemate of yours coming to the office and the amount of germs he can spread through that door knob and faucet handle. That's why it is essential to sanitise and disinfect the door handle at all times.
Germs can spread within 4 hours to about 40-60 percent of employees. So, get a professional cleaning company nearby to help maintain the hygiene of your office to have a productive work life.
2. Window Sills & Pane
One of the things we miss is cleaning our commercial window. Our windows can give us a view and protect us from harsh weather, but if we fail to clean them, it can cause many health issues. It can cause unproductivity, allergens, and even Sick Building Syndrome.
It is a common place where dust and allergens can accumulate, leading to respiratory and other mental issues. So, get a window cleaning service in Dubai to get your windows cleaned at an affordable price.
Moreover, hiring trained window cleaners is better because they will help keep your commercial windows clean even in those areas that are hard to reach.
3. Keyboard
A team of researchers from the University of Arizona found that a desktop has about 400 times more germs than an average toilet seat. So, imagine the amount of germs we are in contact with daily.
Also, a study by the Swinburne University of Technology in Australia found that a keyboard has lots of bacteria on it and more on the shared laptop.
So, get your desk and keyboard wiped clean with our effective cleaning services for your office in Dubai.
4. Coffee Maker
Now, are you surprised that, among the dirtiest places in your office, the coffee machine/pot is one of them?
Well, most of us depend on coffee to get fuel to do our daily work, and we don't pay much attention to how clean it is. Let me tell you, most of the time, employees touch the coffee stand with contaminated hands, which can increase the level of germs. Not just that! It stays damp all the time, giving it the perfect spot for breathing and a whole lot of germs.
5. WaterCooler
Have you ever questioned how clean your office water cooler is?
Your water cooler can be one of the grimiest places because a lot of employees touch it. Harmful bacteria like E. coli can be present on the water dispenser if a contaminated individual touches it.
If you don't clean your water dispensers, it can cause serious health issues that can impact your company's revenues as well as the productivity of your employees. So, hire a commercial/office cleaning company to provide you with the best deep office cleaning services at your convenience.
Keep Your Office Clean With Cleanly
Cleanly is one of the leading cleaning industries here in Dubai. We have a team of well-trained cleaners who will help keep your workplace spotless, ensuring that every nook and cranny is well-cleaned.
Our services continued to exceed the expectations of various customers, allowing us to be an elite cleaning service provider.
So, are you looking forward to joining the happy customers?
Contact our team of professional cleaners today!
Cleaning Services Included in Office Cleaning Services
Vacuum/mopped your floor.
Take out the trash from your office.
Deep/General cleaning of your office toilet.
Keep your windows clean.
FAQ
1. What types of services are there in Office/Commercial Cleaning Services?
In office/commercial cleaning services, you can either opt for
Normal/Regular Cleaning Services
Deep Cleaning Services.
According to your needs and how many people you employ, you can hire people.
2. How Can I Choose The Best Cleaning Office in Dubai?
Search the Internet.
Seek advice from your colleagues and loved ones.
Read the online customers' reviews.
Ask for quotes and compare the prices.
Look for a legal and authorized cleaning company.
3. Can I Get a Customised Cleaning Plan?
Yes! Most of the cleaning companies out here in Dubai provide personalized cleaning services. Moreover, you can choose a flexible date to come and clean your office for you.
4. How much does Cleanly charge for office/commercial cleaning services?
At Cleanly, we provide cleaning services with supplies for AED 85. Our trained and experienced team of professionals will come and deep clean your office for you. To get started, contact our professional through a call or right away book your appointment.
Read More: Dirty Carpets? Hire Professional Carpet Cleaning Services in Dubai
Conclusion
Get the best cleaning experience by booking our elite quality office cleaning services at an affordable price. We also ensure to deep clean every nook and cranny, ensuring that we use eco-friendly cleaning solutions that are safe for you and your loved ones.
Book your cleaning session with the best office/commercial cleaning service today!