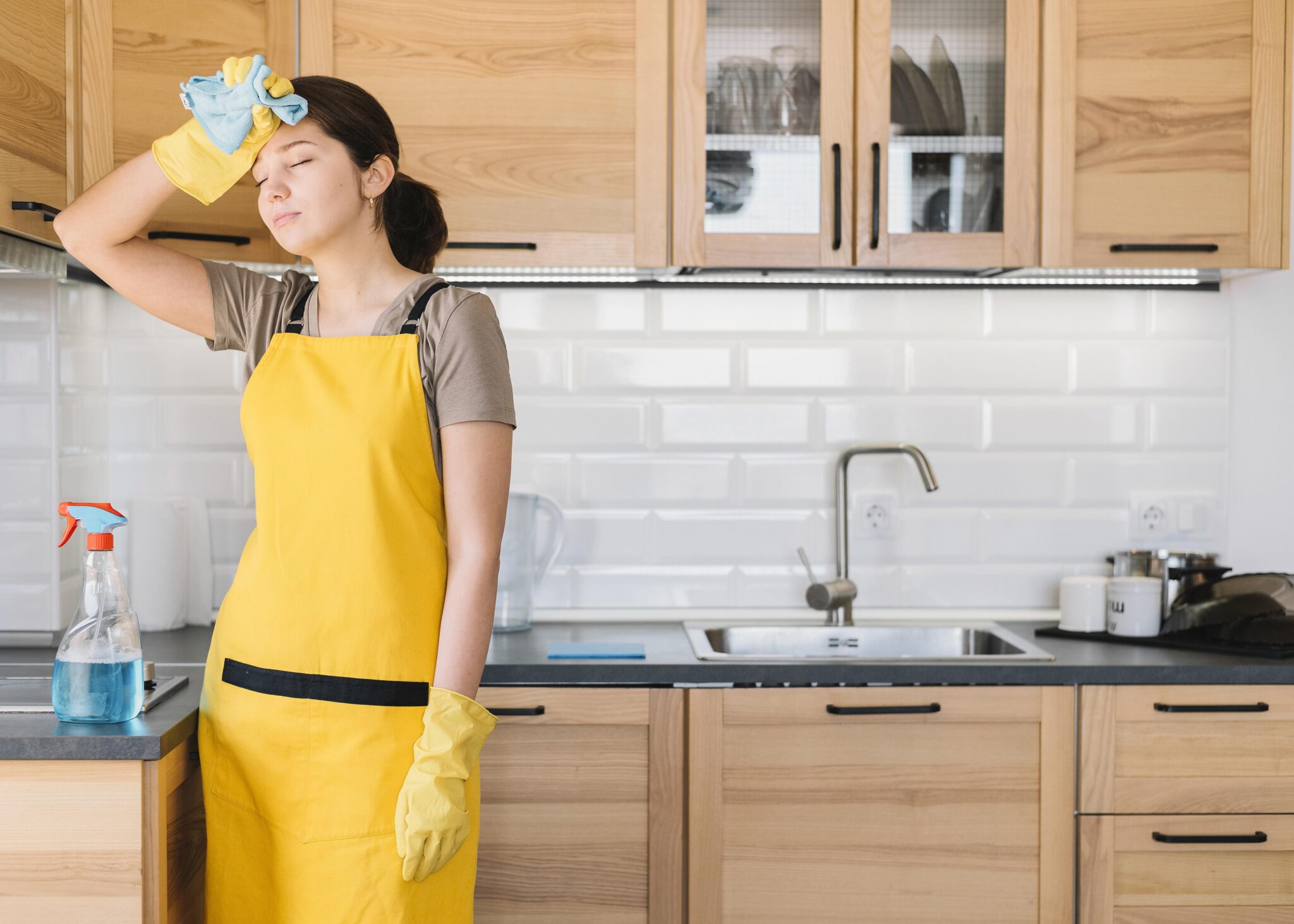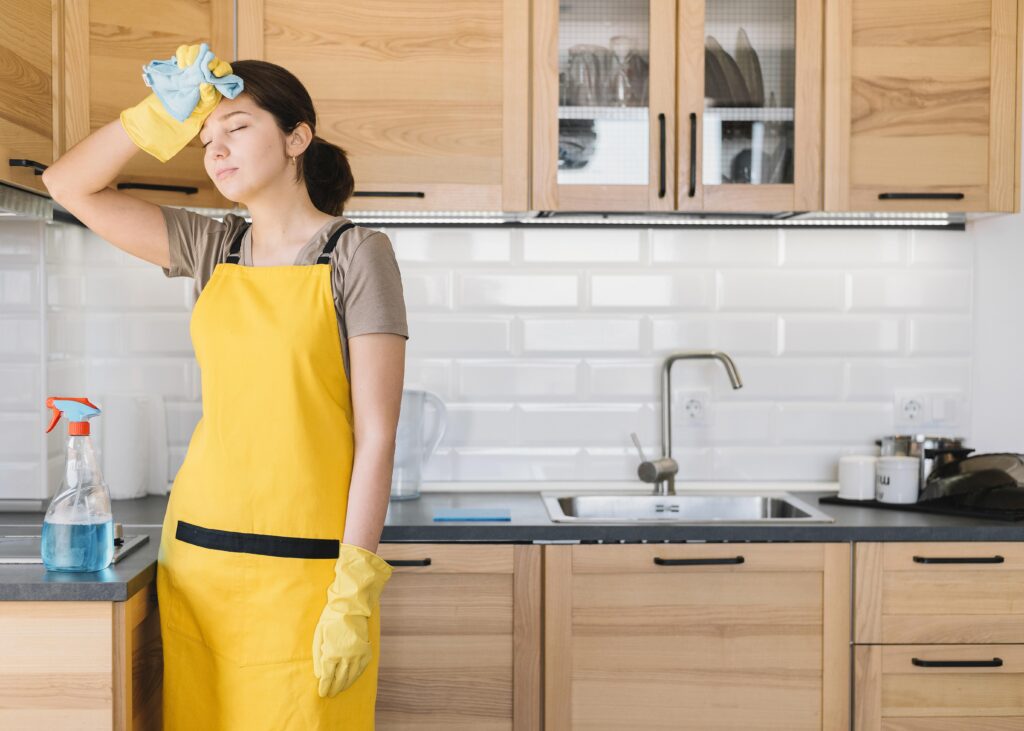 We all love to eat delicious food and preparing can be easy, whereas cleaning up the aftermath can be daunting. Seriously, the most minor part about cooking is cleaning up the mess.
We can have different DIY cleaning methods which might not be doing any favours. So, you might be making the same mistake. Let's look at it and decide whether you should hire someone more experienced in kitchen cleaning service in Dubai.
5 Common Kitchen Mistakes to Avoid
1. Using the Same Dirty Cloth for all Cleaning Purposes
Most of us might unknowingly or knowingly use the same dirty cloth to wipe a kitchen counter, a spillage floor, a stove, and other surfaces. So, rather than cleaning up the mess, we might spread germs in different places.
Our kitchen cloth and surfaces are squirming with harmful bacteria and germs; once you use the same material to wipe a stove or other surfaces, you spread it. You might be surprised that the University of Mauritius researchers collected 100 multiuse kitchen towels. After one month of using it without washing, they conducted studies and found half tested positive for bacterial growth ( most of it originated from the human intestine).
So, pay attention to changing your kitchen towel daily and ensure you have different cloth for different things.
2. Not Cleaning Your Sink Regularly
What is your thought on the germiest place in your kitchen?
Well, this answer might surprise you; your kitchen sink is the germiest place in your kitchen. Backed by the National Sanitation Foundation, according to them, the most germiest place in your kitchen is your sink.
When you rinse or wash poultry, you introduce germs and bacteria in your kitchen sink. So, even if your sink looks clean, ensure that you are cleaning your sink regularly.
3. Irregular Cleaning of Kitchen
The importance of cleaning is that after a long week of cooking and baking, which can end up with spillage and stained food. If you don't clean it daily, all this spillage and stain from food can dry, leaving it hard to clean.
To avoid such a situation, ensure your stove is clean, and your oven is free from spills. Understandably, cleaning them can be tricky, so why not get help from a professional kitchen cleaning company?
4. Improper Washing of Chopping Board
Let me tell you, your chopping board can harbor more germs than your toilet seat.
According to NHS, your chopping can house up to about 200 germs consisting of E.coli, salmonella, etc.
Your dirty chopping board can cause food-borne diseases and even cause nausea, vomiting, stomach and even diarrheic. So, it is essential to sanitize and keep your chopping borne clean all the time.
5. Using Homemade Cleaning Solution
Using homemade cleaning solutions is much better than chemical ones. But hold on, homemade cleaning products may not fully take or kill those harmful bacteria lingering in the corner or surfaces of your kitchen.
So, you need to know it is better to call upon professional help to clean down every nook and cranny of your kitchen. Why?
It is because compared to your DIY cleaning solution, professionals will thoroughly clean, sanitize, and disinfect your cooking area more effectively.
What Can You Do To Keep Your Kitchen Clean?
Here are some tips to keep your cook area spotless and refreshed. There are
Wipe away spillage immediately.
Take out your dustbin daily.
Clear off the counter and wipe it down with sanitiser and disinfectant.
Scrub your kitchen sink regularly.
Clean your chopping board using bleach.
Change your kitchen washing sponge frequently.
Wash your kitchen towel/cloth frequently.
Also, cleaning the dirt and keeping your kitchen clean after a long and tiring day can be challenging. So, to save yourself time to relax, hire kitchen cleaning services near you to help keep your cooking area spotless.
To get some idea, let's understand by ceiling some few benefits of hiring well-experienced kitchen cleaning experts.
Benefits of Hiring Kitchen Cleaning Experts
Every home is unique, and accordingly, the experts will be able to provide you with effective deep kitchen cleaning services for your home. So, let's understand a bit what are the benefits of hiring professionals are. There are:
Experts will clean your kitchen more efficiently within 2-3 hrs, saving you time to focus on other important stuff.
Come with a well-experienced and skilled cleaning team.
Extend the lifespan of your kitchen appliances.
Clean off the dirt and dust using an effective cleaning solution which is safe for you and your loved ones.
Whom Should You Hire for Cleaning Your Kitchen?
We know your kitchen is an essential part of your home, and cooking in a dirty kitchen doesn't give you the joy of cooking. Also, we understand that many people in Dubai don't have enough time to thoroughly or regularly clean their kitchens. So, our team of experts are here to help maintain that level of cleaning to keep you in good health.
However, the question of whom to hire for your kitchen can sometimes put you in dismay. So, you can rely on our team. We know each home is unique, so we provide a customized plan that fits your requirements at a genuine price. Keeping your kitchen neat and clean is our goal so that you can trust the quality of our services.
So, go ahead and opt for either two of these cleaning services.
You can also get different cleaning services from us, and if you are interested in booking other services, click on the main website link given below-
FAQ
1. What is Deep Kitchen Cleaning Services?
It allows professional cleaners to clean your kitchen area to remove grease, dirt, spills, dust, etc. The professionals also focus on cleaning off the areas such as appliances, countertops, floors, faucets, sinks, etc.
2. Do You Use Eco-Friendly Cleaning Solutions to Clean Kitchen Areas?
Yes! Our primary focus in cleaning is providing quality services using eco-friendly cleaning solutions. Your and your loved ones' health comes first to us, and we ensure we use solutions free from harmful effects. However, ensure that you convey your message to our experts before they come to clean your cooking space.
3. How to Book cleaning services?
Here are quick and easy steps to book cleaning services for your deep kitchen cleaning services or other services. There are:
Click on the main website.
Tap on the services.
Select the service you want.
Enter the date and time convenient for you.
Click on the Book.
Pay by Cash or using MasterCard.
Read More: Top 5 Benefits of Cleaning Your Sofa By Professional in Dubai
Conclusion
We need to give importance to our living area, jeopardising our health. So, a professional deep kitchen cleaning company in Dubai will assist you in keeping your cooking area needed and clean.
Contact us and get your home and your kitchen cleaned. You can also opt for different cleaning services like chairs, sofas, carpets, bathrooms, etc.
To book a cleaner and refreshed cooking space, contact us today!